This spring, officials with the Fannin County Development Authority submitted a winning application for a research grant through Georgia Tech's Economic Development Research Program (EDRP). The research focuses on a study of Fannin's labor market. It includes business leader surveys and community data analysis all to be conducted this summer.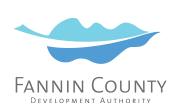 Georgia Tech's Center for Economic Development Research will lead the research. Researchers will define the county's labor draw area, survey business leaders, and analyze detailed industry, occupational, and wage information. Researchers will analyze and assemble this information into a Labor Market Study that Fannin leaders can use to market to prospective business.
The research team expects to complete at the end of August.